How to easily install 4CH mobile DVR?
【EASTY MOUNT 4CH
Mobile DVR
KIT】:
①Eastyle MDVR supports 4CH 1080P AHD 2.0MP
Camera
s.
② 1 * 4CH mobile dvr ; 1 * 7 inch VGA monitor ; 1 * front view waterproof glue filling vehicle camera and 1 * external microphone; 1 * rear view waterproof glue filling vehicle camera ; 2 * side view waterproof glue filling vehicle camera;
③ All the accessories required for installation are already equipped, such as differenct length extension cables, tape,screws and so on.
【Waterproof & IR NIGHT VISION CAMERA】:
① Waterproof: the camera chip which is completely covered by glue, it is absolutly waterproof and work well in outside directly.
② IR NIGHT VISION: side view and rear view camera are IR night vision, from a professional perspective, due to the influence of the windshield, the front view camera should not be made into IR night vision.
③ All the cameras are 2.8mm, viewing angle is about 120 degree.
【7 INCH HD VGA MONITOR 】:
① Provides about 10FT ( 3M ) Monitor power supply wires, it breaks the limit of length.
② Powered directly from the MDVR, it is more convenient.
③ It supports to connect with TV or monitor that with HDMI. MDVR supports works with 2 monitors.
④ Screen resolution: 1024*600.
【MULTIFUNCTIONAL MDVR】:
① DELAY RECORDING: When the vehicle is shut down, MDVR will continue to record,up to 48 hours (draws power from vehicle's battery);
② G-sensor: internal G-Sensor, convenient for analysising automobile moving state;
③I/O AlARM:while you are reversing/ turning left/ turning right , display images of single amplification reverse/ turning left/ turning right channel.( I/O Cables should be connected )
【PROFESSIONAL MANUFACTURER & CUSTOMER SUPPORT】We are a professional high-tech enterprise for R&D, manufacturing and marketing all kinds of Mobile DVR & NVR, Camera, which is a well-experienced manufacturer specialized in vehicle security products in China. We always ready to help you If you have any questions, please feel free to contact us.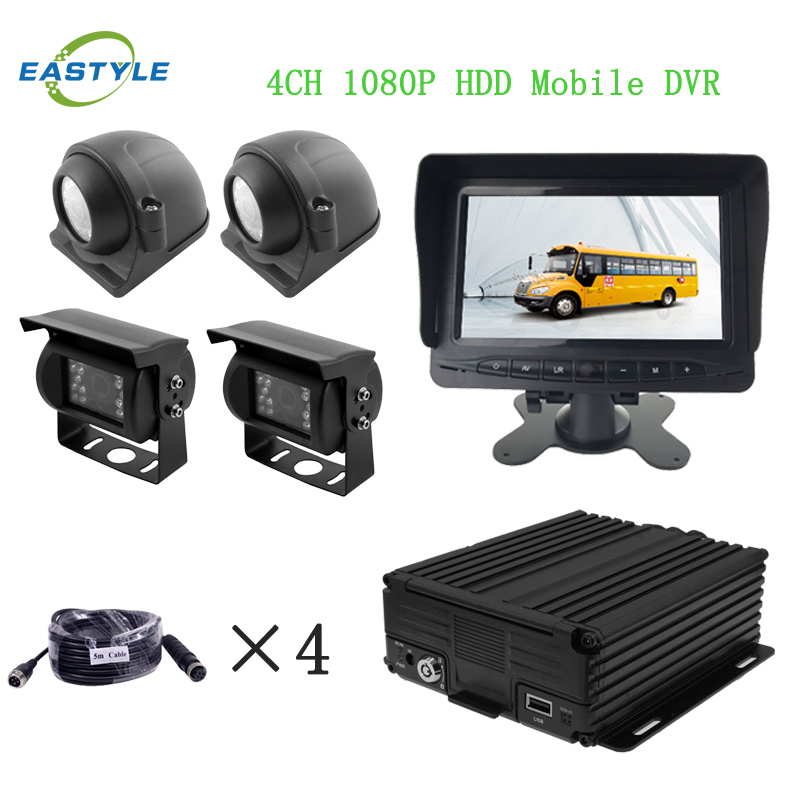 Product description
Eastyle 1080P 4CH Moible DVR Camera System

Feature:
①Easy to mount
②G-sensor
Built-in G-sensor module.Recognizes sudden movements i.e. hard acceleration, sudden stops, speeding and impacts.
③ DELAY POWER OFF
Records footage while vehicle is off– up to 48 hours (draws power from vehicle's battery).
Built-in ultracapacitor, when the accident occurred,the machine delays about 10 seconds to shutdown and save the video,avoid data loss and SD damage caused by sudden outage
④ 7 inch IPS VGA MONITOR
IPS screen. It can get clear image at any perspective. Adjustable colorness and contrast.
⑤ Waterproof IR night vision cameras
the camera chip which is completely covered by glue, it is absolutly waterproof and work well in outside directly.
⑥Special file management system to encrypt and protect the data
⑦Proprietary technology to detect the bad track of the SD card which can make sure the continuity of video and long service life of the SD card

Package:
① All-In-One Surveillance System :
1 * 4CH 1080P Dual SD Mobile DVR;
1 x 7 inches IPS VGA monitor;
1 x front view camera;
1 x external microphone;
1 x rear view camera ;
2 x side view cameras;
②Cables:
1 x 7 inch VGA display (10FT (3M) Monitor power supply wires)
1 x 5m 4pin cable
2 x 10m 4pin cables
1 x 15m 4pin cable
1 x 3 m power cable and 1x 20 cm power cable
1 x I/O cable
③ Accessory:
20 x screws
20 x Cable tie
1 x tape
1 x User Manual
Note : SD card NOT Included.

Warranty:
① We are a professional Mobile DVR & NVR, Camera manufacturer specialized in vehicle security products in China. All our products are quality guaranteed, we can provide FCC certificate.
② Well-experienced Customer Service, if you have any problem about our product, we will help you to solve it ASAP.
③ 1 Year WARRANTY